WELCOME TO THE VIP DINE 4 LESS CARD
Thank you for reading about the VIP Dine4Less Card, On this site you may purchase VIP Dine4Less Cards for the different cities available. You may also learn more about each of the participating restaurants in the program, view restaurant websites, view maps and more. To date, VIP Dine4Less Card has partnered with hundreds of restaurants if an effort to provide each of our guests a tremendous value when dining out with their family.
How do you make a fabulous dining experience filled with great food and conversation even more enjoyable? Save with the VIP Dine4Less card!
The VIP Dine4less card offers discounts at the finest restaurants in two of the country's most popular cities.
Whether you're dining alone or spending an evening with up to three of your friends, the VIP Dine4Less card is your ticket to fine dining. You and up to three guests can enjoy delicious meals and exclusive deals at the top restaurants. And with the VIP Dine4Less card you don't have to worry about carrying around multiple coupons, vouchers or gift certificates. This special card is all you need to enjoy savings on the nation's most delicious cuisine.
If you have any questions about the Dine4Less card our customer service team is to help. Our call center provides dedicated personal assistance to all of our customers 7 days a week.
How It Works
•
Purchase the VIP Dine4Less Card
•
Browse through our website to discover the restaurants and deals that are perfect for you.
•
Then Dine More, Spend Less!
Additional Information
•
Each "VIP Dine4Less" card presented will be valid for up to a maximum of four (4) paying guests (Additional guests may require additional cards) and will not be valid with any other discount offers or promotions.
•
Alcohol, beverages, tax and gratuity may not be subject to discounts and will be determined and maintained solely by the participating restaurant.
•
Each card must be signed and dated prior to first use in order to be activated and may be subject to identification verification.
•
Cards may not be transferred, used or reused for any other purpose other than defined under this agreement or on the actual card
•
Cards will have no residual value.
• Each card will be valid for 30 consecutive days from the date of first use.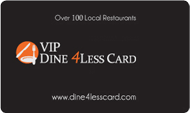 One low price of £29.95
Over 100 restaurants
VIP Dine4Less Card is good for 30 days
Valid for up to 4 people
Save up to 25% off food purchases.
About the VIP Dine4Less Cards
.